Nicholas Negroponte: "The 5G will not be a breaker. It is nuclear fusion that will change the world "
Original.
Google translation.
El fundador del Media Lab del MIT vaticina un salto para la humanidad gracias a la bioingeniería, la producción de alimentos artificiales y la irrupción de una energía limpia

The founder of the MIT Media Lab predicts a leap for humanity thanks to bioengineering, the production of artificial foods and the emergence of clean energy
Tiene motivos para presumir de dones proféticos, porque estuvo en primera fila del despertar digital y vio con claridad lo que vendría después. En los años ochenta y noventa, cuando la mayoría de la población desconocía o empezaba a acercarse a Internet, Nicholas Negroponte (Nueva York, 1943), informático y arquitecto, fundador y director del Media Lab del Massachusetts Institute of Technology (MIT), vaticinó que íbamos a tener ordenadores en los bolsillos, pantallas táctiles, televisión a la carta como la de Netflix, altavoces inteligentes y hogares conectados. Y entendió que vendrían profundos cambios sociales. Sus artículos en la última página de Wired o su libro El mundo digital (1995) eran seguidos como un oráculo.

He has reason to boast of prophetic gifts, because he was in the forefront of digital awakening and saw clearly what would come next. In the eighties and nineties, when the majority of the population was unaware or was beginning to approach the Internet, Nicholas Negroponte (New York, 1943), computer scientist and architect, founder and director of the Media Lab of the Massachusetts Institute of Technology (MIT), predicted that we would have computers in our pockets, touch screens, TV on demand like Netflix, smart speakers and connected homes. And he understood that profound social changes would come. His articles on the last page of Wired or his book The Digital World (1995) were followed as an oracle.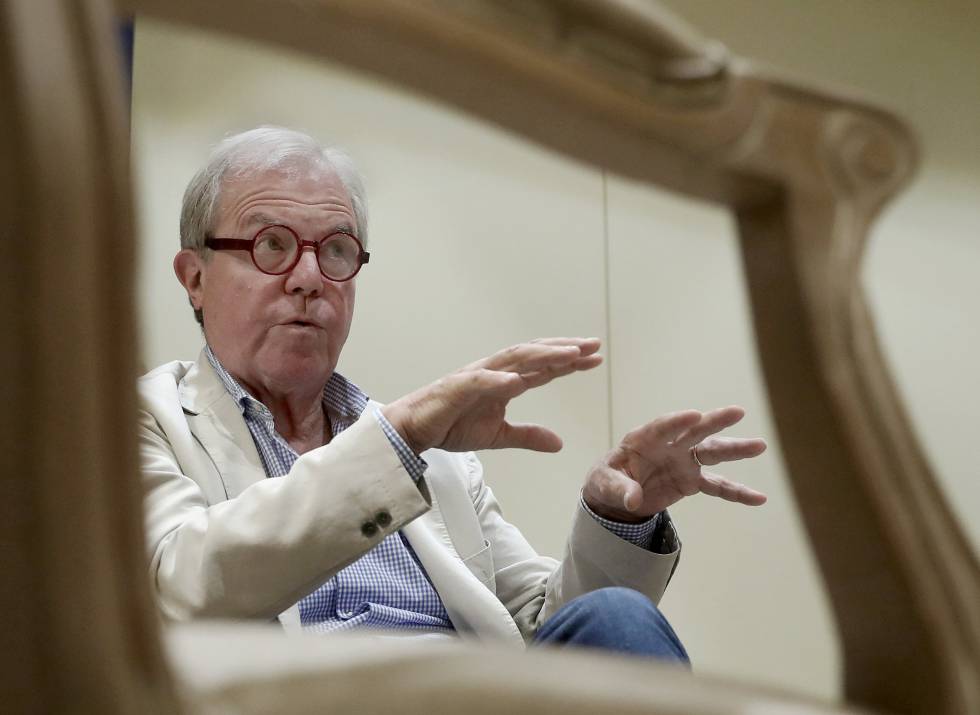 El tiempo le ha dado la razón en casi todo. Negroponte conversa en Madrid, donde participa este jueves en la jornada Cruce de Caminos, organizada por Banco Caminos y Bancofar. Sigue confiado en sus visiones del futuro, que hoy suenan muy atrevidas. Claro que también era atrevido lo que decía hace 30 años.

Time has proved him right in almost everything. Negroponte talks in Madrid, where he participates this Thursday in the day Cruce de Caminos, organized by Banco Caminos and Bancofar. He remains confident in his visions of the future, which today sound very daring. Of course, what he said 30 years ago was also bold.
Pregunta. ¿Cuál es el próximo hito para la humanidad?

Question. What is the next milestone for humanity?
Respuesta. El mundo digital se ha integrado en nuestras vidas. Lo que vendrá ahora ya no serán extrapolaciones de la informática, como las que hemos visto.

Answer. The digital world has been integrated into our lives. What will come now will no longer be extrapolations from computing, like the ones we have seen.
Pregunta. ¿Es la bioingeniería la próxima revolución?

Question. Is bioengineering the next revolution?
Respuesta. Esa será una de las grandes cosas que vengan, sí. Tendremos humanos genéticamente modificados y corregiremos los errores de la naturaleza. Será un futuro muy distinto.

Answer. That will be one of the great things that come, yes. We will have genetically modified humans and we will correct the errors of nature. It will be a very different future.
P. ¿De verdad podremos vivir 150 o 200 años? ¿Lo haremos nosotros o nuestros descendientes?

Q. Can we really live 150 or 200 years? Will we or our descendants do it?
R. Eso ocurrirá con seguridad en la próxima generación. Es un poco tarde para nosotros, porque revertir el envejecimiento es más difícil. Pero no hay duda de que sus hijos y mis nietos vivirán hasta los 150 años. Y haremos que los discapacitados puedan andar, luego podremos eliminar las enfermedades raras…

A. That will happen safely in the next generation. It's a bit late for us, because reversing aging is more difficult. But there is no doubt that your children and my grandchildren will live to be 150 years old. And we will make the disabled able to walk, then we can eliminate the rare diseases …

P. Y se alimentará al mundo con comida artificial.

Q. And the world will be fed artificial food.
R. Crear carne que no proceda de las vacas es un proyecto maravilloso. Podremos replicar las células de las vacas sin hacer daño a animales, sin el CO2 que emiten, ahorrando agua, cuidando el medio ambiente, y logrando que la gente tenga carne.

A. Creating meat that does not come from cows is a wonderful project. We can replicate the cells of cows without harming animals, without the CO2 they emit, saving water, taking care of the environment, and making people have meat.
P. ¿Nos salvará la tecnología también del cambio climático?

Q. Will technology also save us from climate change?

R. La tecnología es la única solución al cambio climático. No hay otra. Tenemos que encontrar la forma de producir energía, no necesariamente de fuentes renovables, como el viento o el sol, sino haciendo que la fusión nuclear funcione. En 50 años tendremos una economía distinta y un mundo mejor gracias a ella.

A. Technology is the only solution to climate change. There is no other. We have to find a way to produce energy, not necessarily from renewable sources, such as wind or sun, but by making nuclear fusion work. In 50 years we will have a different economy and a better world thanks to it.
P. Usted pronostica avances enormes para la humanidad. ¿No teme que las miserias humanas, o los intereses políticos y económicos, impidan que lleguen a beneficiar a la mayoría?

Q. You predict huge advances for humanity. Do you not fear that human miseries, or political and economic interests, prevent them from benefiting the majority?
R. Los intereses corporativos suelen frenar algunos avances, pero no por mucho tiempo. Es bien conocido que quienes tienen intereses en el petróleo pueden forzar un retraso en las tecnologías alternativas. Por eso es tan difícil hacer pronósticos sobre cuándo llegarán algunas cosas, porque a menudo los retrasos vienen de fuerzas externas que no tienen que ver con la tecnología.

A. Corporate interests tend to slow down some progress, but not for long. It is well known that those who have interests in oil can force a delay in alternative technologies. That is why it is so difficult to make predictions about when some things will come, because delays often come from external forces that have nothing to do with technology.

P. El 5G, el sistema que dominará las comunicaciones móviles, está siendo el centro de esta Segunda Guerra Fría, un campo de batalla entre EE UU y China por esa tecnología. ¿Quién ganará?

Q. The 5G, the system that will dominate mobile communications, is being the center of this Second Cold War, a battlefield between the United States and China for that technology. Who will win?
R. Hace 15 años que EE UU se ha rendido en las tecnologías de la telecomunicación. Los principales actores ya no son empresas americanas. El repentino interés por el 5G, y en particular por Huawei, me parece increíble. Porque el 5G no es tan importante como están vendiendo. Es solo un cambio incremental sobre el 4G. El hito fue el 3G. Esto no es la fusión nuclear. Si alguien domina la fusión nuclear, cambiará las reglas del juego. El 5G no va a ser rompedor. Y si miramos lo que hace China en áreas como el 5G, está muy por delante de EE UU.

R. It has been 15 years since the USA has surrendered in the technologies of the telecommunication. The main players are no longer American companies. The sudden interest in 5G, and in particular by Huawei, I find incredible. Because 5G is not as important as they are selling. It's just an incremental change over 4G. The milestone was 3G. This is not nuclear fusion. If someone dominates nuclear fusion, it will change the rules of the game. The 5G is not going to be groundbreaking. And if we look at what China does in areas like 5G, it is far ahead of the US.
P. Usted representa el optimismo ante los cambios tecnológicos. Pero todo indica que la opinión pública ha ido pasando del entusiasmo al pesimismo.

Q. You represent optimism in the face of technological changes. But everything indicates that public opinion has gone from enthusiasm to pessimism.
R. Sigo siendo optimista, pero eso es verdad. Hay un creciente sentimiento en todo el mundo de escepticismo, de que la tecnología ha creado muchos de los problemas que tenemos que arreglar. Si lo miras objetivamente y con perspectiva, la tecnología ha traído muchas soluciones, como en la medicina, y los problemas son sobre todo por cómo usamos la tecnología.

R. I'm still optimistic, but that's true. There is a growing feeling around the world of skepticism, that technology has created many of the problems we have to fix. If you look at it objectively and with perspective, technology has brought many solutions, as in medicine, and the problems are mainly due to how we use technology.
P. Los gigantes de Internet son vistos ahora como un gran oligopolio que hace negocio sin control con nuestros datos. Una especie de Gran Hermano.

Q. Internet giants are now seen as a big oligopoly that does business without control with our data. A kind of Big Brother.
R. Pondré otro ejemplo. Cuando las revelaciones de Snowden, muchos americanos como yo nos sorprendimos de que el Gobierno nos estaba vigilando. Si vas a China, y acabo de estar allí, ves cientos de cámaras en la calle haciendo reconocimiento facial y creando una casi perfecta seguridad. Y la gente está satisfecha. Dicen: de acuerdo, quizás se viole lo que vosotros los occidentales consideráis intimidad, pero no tenemos delincuencia. Son cosas que se ven distintas desde cada cultura.

R. I will give another example. When the revelations of Snowden, many Americans like me were surprised that the Government was watching us. If you go to China, and I've just been there, you see hundreds of cameras on the street doing facial recognition and creating an almost perfect security. And the people are satisfied. They say: OK, maybe what you Westerners consider intimacy is violated, but we have no crime. They are things that look different from each culture.
P. ¿Juega China con ventaja en la carrera tecnológica por la falta de garantías para la intimidad? Allí se puede crear una gigantesca base de datos genéticos que en Occidente no sería viable.

Q. Does China play an advantage in the technological race due to the lack of guarantees for privacy? There you can create a huge database of genetic data that in the West would not be viable.
R. Europa es quizás el líder mundial en protección de la intimidad. Por otro lado, hay mucha gente que muere en Alemania porque es ilegal compartir datos que permitirían salvarlos. Es un difícil equilibrio. Si me atropella un coche, no quiero que mis datos médicos estén protegidos, quiero que cuando llegue la ambulancia lo sepan todo.

R. Europe is perhaps the world leader in privacy protection. On the other hand, there are many people who die in Germany because it is illegal to share data that would allow them to be saved. It is a difficult balance. If I get hit by a car, I do not want my medical information protected, I want the ambulance to know everything.
P. ¿Cree que los gigantes de Silicon Valley deben ser divididos como otros monopolios en el pasado, lo que ha propuesto la senadora Elizabeth Warren?

Q. Do you think the giants of Silicon Valley should be divided like other monopolies in the past, what Senator Elizabeth Warren has proposed?
R. No estoy seguro de que dividir a estas compañías garantice asuntos como la privacidad. A nadie le gusta que una empresa crezca tanto y sea dominante, pero lo que tenemos que mirar es qué sacamos de ellos, quién está contribuyendo más al conocimiento y la ciencia. Es sorprendente qué poco aportan muchas de esas grandes compañías. La gente joven quiere ser Mark Zuckerberg, no quieren ser Alan Turing. Es decepcionante. Necesitamos gente que invente y sea imaginativa como Turing.

A. I am not sure that dividing these companies guarantees issues such as privacy. Nobody likes that a company grows so much and is dominant, but what we have to look at is what we get out of them, who is contributing more to knowledge and science. It is surprising how little many of these big companies contribute. Young people want to be Mark Zuckerberg, they do not want to be Alan Turing. It's disappointing. We need people who invent and be imaginative like Turing.
P. ¿Están afectando las redes sociales a la calidad de la democracia? Allí se expanden ideas extremistas, mensajes de odio…

Q. Are social networks affecting the quality of democracy? There, extremist ideas, hate messages …
R. No uso mucho las redes sociales. Soy más un observador. Está claro que están teniendo un impacto. En unas partes, están creando democracia, en otras partes la están debilitando. El balance es probablemente a favor de la democracia.

A. I do not use social networks a lot. I am more an observer. It is clear that they are having an impact. In some places, they are creating democracy, in other parts they are weakening it. The balance is probably in favor of democracy.
P. Diversos estudios alertan de la destrucción de millones de empleos por la robotización, incluso en la actividades más intelectuales. Esto está generando ansiedad en la población y abriendo debates como el de la renta universal. ¿Cuál es el futuro del empleo?

P. Various studies warn of the destruction of millions of jobs by robotization, even in the most intellectual activities. This is generating anxiety in the population and opening debates such as the universal income. What is the future of employment?
R. Es más fácil automatizar la mayoría de actividades intelectuales que la mayoría de empleos en servicios, como preparar comida rápida. Es más fácil tener un robot abogado, o contable. El desplazamiento del empleo no dependerá de las capacidades intelectuales. En algún momento tendremos que repensar el concepto del trabajo. Una parte del concepto tiene que ver con tener un sentido, un propósito. La gente siempre tendrá un propósito, pero puede no ser llevar un salario a casa, que es lo que define el empleo hoy.

A. It is easier to automate most intellectual activities than most service jobs, such as preparing fast food. It is easier to have a lawyer robot, or accountant. The displacement of employment will not depend on intellectual abilities. At some point we will have to rethink the concept of work. A part of the concept has to do with having a sense, a purpose. People will always have a purpose, but it may not be to take a salary home, which is what defines employment today.
P. ¿Vamos a tener algún día una verdadera inteligencia artificial, que tenga conciencia?

Q. Are we going to have a real artificial intelligence one day, that is aware?
R. Esa es la pregunta, la conciencia, y la mayoría de la gente no se la hace. No estoy seguro de que lo vaya a ver en mi vida. Pero antes de eso veremos máquinas que tendrán sentido del humor, y será asombroso. Otra pregunta que no parece interesante es: ¿porqué los hombres apreciamos la música?

R. That is the question, the conscience, and most people do not ask it. I'm not sure I'll see it in my life. But before that we will see machines that will have a sense of humor, and it will be amazing. Another question that does not seem interesting is: why do men appreciate music?
P. ¿Hay que reivindicar las humanidades, o la filosofía, en una sociedad hipertecnológica?

Q. Do we have to claim the humanities, or philosophy, in a hipertechnological society?
R. Las humanidades son la cosa más importante que puedes estudiar.

A. The humanities are the most important thing you can study.